Virginia joined Sellers Dorsey in 2019 as a Senior Strategic Advisor after working for the Commonwealth of Pennsylvania for nearly 15 years. Virginia is an expert in managed care and government programs, providing strategic guidance, operational expertise, and project support to Sellers Dorsey clients.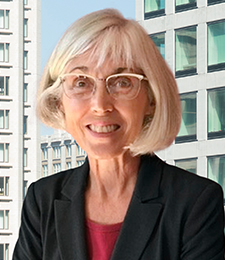 What brought you to Sellers Dorsey?
While working for the Commonwealth of Pennsylvania, I worked with Pat Brady, Managing Director at Sellers Dorsey, when I was with the Governor's Office of Health Care Reform – Pat was the Deputy Secretary of the Office of Long-Term Living (OLTL) at the time – and then she was the Policy Director with OLTL.  We were designing and executing the implementation of the Commonwealth's managed long-term services and supports program, Community HealthChoices (CHC).  I was so impressed by how smart and capable Pat and her team were and how very helpful they were to our work.  As I was getting ready to retire from the Commonwealth in late 2018, Pat approached me about working part-time at Sellers Dorsey.  I wasn't ready to stop working all together, so I jumped at the opportunity to join her team.
What's your special area of expertise?
I have worked in the disability arena for the past 40 years in various roles and have been a long-time advocate for home and community-based supports. Over the course of my career, I have developed an expertise in the area of Medicaid funded long-term services and supports, particularly under the 1915(c) waiver authority.
Who are your typical clients?
I continue to work with clients in the long-term care space, such as OLTL.
What have you worked on recently?
Most recently, I have been part of the Sellers Dorsey team that assisted a state with its COVID-19 response efforts such as researching disaster flexibilities, preparing communications and training materials, and Coronavirus Relief Reporting. I also continue to support CHC.
What do you like about working at Sellers Dorsey?
I am so impressed by the breadth of knowledge across the organization – the firm has so many intelligent and capable people.  I also value the support I receive from my team and the ability to contribute to meaningful and engaging work.
How has your work changed over time?
I'm working on the same types of projects that I worked on when I worked for the Commonwealth, but at a 30,000 foot level – and without the politics.
What do you believe lies ahead in the next couple of years for your clients?
I would say it's getting past the fire drills associated with the public health emergency so that OLTL is able to return its full attention to other pressing health priorities, such as CHC. The last couple of years have been a steep learning curve for OLTL – they have had to learn about managed care, reorganize themselves to respond to the change in service delivery, and have seen their roles change within the organization – and they have learned a lot. But with the implementation of any new program, one identifies areas for improvement and growth.
What is one important thing you have learned during your time at Sellers Dorsey? Alternatively, is there something else you would like to share?
I was hired as a remote worker, and as an introvert, I was thrilled!  However, I have learned that I really do miss, and need, some personal interaction with my colleagues.  As nice as it is to be able to use Microsoft Teams, it's just not the same for developing meaningful relationships with colleagues, which fosters a collaborative and collegial work environment.