Stella uses her technical, operational, management, and analytical experience to help develop and implement revenue maximization initiatives for Sellers Dorsey clients. She assists with business development and analytics for enhanced physician and hospital payment projects, and these initiatives are designed to capture federal Medicaid matching funds for services to Medicaid eligible patients that are subsidized with state-only dollars.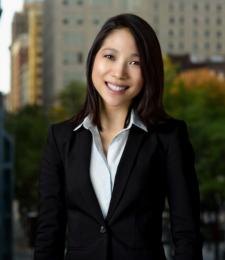 What brought you to Sellers Dorsey?
My career has always been in the health care field, and I have always had a strong passion for public health and improving our health care system. I was looking for additional growth opportunities four years ago when I fortuitously came across Sellers Dorsey's website and the opening for additional consultants. Upon learning about the great and interesting work that we do for our clients and the Medicaid population and knowing the dynamic nature of health care and consulting, I knew Sellers Dorsey was the place for me. I loved all of the people I spoke to and was additionally ensured that Sellers Dorsey had a strong culture of growth and community, and I could see myself growing my career for the long term. Ever since, I haven't looked back and have been engaged and passionate in the work every day!
What's your special area of expertise?
Over the course of my four years at Sellers Dorsey, I've developed Medicaid technical and policy knowledge and subject matter expertise to be able to contribute to strategy development discussions and maximize funding opportunities for our clients. I've worked on a variety of Medicaid financing initiatives including physician UPL opportunities, provider assessments, GME, and various types of directed or supplemental payments. I'm also well versed in data analysis to regularly produce data requests, calculate the value of funding opportunities, evaluate datasets, identify payment gaps, and recognize requirements for additional payment initiatives.
Who are your typical clients?
My typical clients are hospitals which include academic  medical centers, children's hospitals, and other types of private and public hospitals. I've also engaged with state hospital associations, physician groups, and different types of providers.
What have you worked on recently?
My biggest project that I have worked on recently during my time at Sellers Dorsey is with a health system that is comprised of five academic medical centers. I was a part of the original project team that got two Managed Care Directed Payments across the finish line (Enhanced Payment Program & Quality Incentive Program) and the most recently approved Graduate Medical Education program.
What do you like about working at Sellers Dorsey?
I love the people and our team-based culture. I always feel supported, valued, and am continuously learning and contributing to engaging work!
How has your work changed?
With more experience and knowledge over the course of my time at Sellers Dorsey, I've been able to take on more of a subject matter role to utilize my technical and policy expertise to contribute certain specialized skills and knowledge to our initiatives.
What is one important thing you have learned during your time at Sellers Dorsey? Alternatively, is there something else you would like to share?
Never stop learning because it gives you courage! The more knowledgeable you are, the more comfortable you feel and the more that you can contribute. Sellers Dorsey gives you the space to never stop learning, developing, and expanding your skillsets/knowledge.