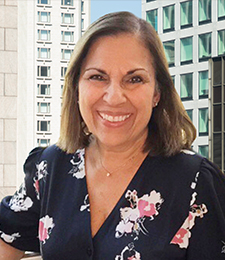 Janice Fagen is a former Medicaid health plan executive with more than 25 years of managed care leadership experience. Before joining Sellers Dorsey, she was the Vice President of Medicaid Operations for Blue Cross and Blue Shield of Texas (BCBSTX). Janice excels at providing strategic guidance and subject matter expertise to clients such as managed care organizations, states Medicaid agencies, and solutions partners. As a former health plan executive, Janice is well-versed in managed care, value-based care strategy, business development, stakeholder engagement, and RFP and state procurements.
What brought you to Sellers Dorsey?
In a word, Gary! Before joining the team, I was a Sellers Dorsey Client. Gary Jessee, Managing Director at Sellers Dorsey, was assisting me and my team with program development related to pre-RFP work, long-term services and supports provider engagement, and listening sessions. He also introduced us to vendors to enhance our operational position. Prior to Gary's role at Sellers Dorsey, he was my Medicaid regulator in Texas, so I've known him for many years. We also interacted at conferences like Advancing States. In the Fall of 2019, Gary casually mentioned that I should consider joining the firm. As we all well know, Gary is very convincing! The opportunity came at a very fortuitous time for me and has allowed me to contribute in a variety of ways, bringing me back to my roots and I am enjoying every minute of it!
What's your special area of expertise?
I have spent 26 years in managed care leadership roles, for all lines of business including commercial, Medicare, and Medicaid. I found my passion and, in many ways, returned to my roots when I started focusing on running Medicaid for insurance companies. The bulk of my experience is in provider network development/engagement; member engagement; medical management; marketing and public relations, performance and contract compliance/state agency relations; vendor oversight; quality improvement and general plan operations; and customer service. Prior to my career in managed care, I was a psychiatric hospital administrator with a focus on children, adolescents, and women's issues. I spent several years in high school and college working with children and young adults with intellectual or developmental disabilities and trained as a therapist. My first job post-degree was in a private therapy practice, but I realized from that experience that I preferred programmatic/administrative/organizational work more than direct service provision, and the rest is history!
Who are your typical clients?
I have an interesting balance of clients including four solution providers: a case management/disease management firm, a digital solution for chronic loneliness, a chronic kidney disease solution, and a vision provider network. I also work with two Medicaid managed care plans that are preparing to bid for a procurement next year. With our solution provider clients, we focus on relationship assistance and getting the clients in front of managed care companies to improve their competitive positions. With the managed care plans, our focus is on preparing a winning proposal which includes improving their current solutions.
What have you worked on recently?
My team and I just completed a comprehensive Gap Analysis and Roadmap for one of the managed care clients highlighting issues that require mitigation and solutions for the RFP work. They were very appreciative of the insights we shared. We also recently collaborated with another firm and completed an engagement with a health plan that wanted to integrate their disparate approaches to physical and behavioral health, and we provided a roadmap for them.
What do you like about working at Sellers Dorsey?
It's very simple: the people and the work. The team at Sellers Dorsey is a delight to work with, so smart and professional. Also, Gary is very supportive and incredibly helpful. His mantra is "no one at the firm works alone."  We are always there to help each other. When I hit a brick wall, Gary has consistently helped me find a way to go around or over it.
How has your work changed over time?
There is a rhythm to consulting, "feast or famine," that requires adjustment. The work comes in waves and if you like riding roller coasters, you will love consulting.
What do you believe lies ahead in the next couple of years for your clients?
Our success as a firm is evidenced by the fact that clients renew year over year. I enjoy working with my current clients very much, and I love the business development process of meeting new prospects and winning new clients by offering hands-on and meaningful support based on lived experience.
What is one important thing you have learned during your time at Sellers Dorsey? Alternatively, is there something else you would like to share?
I've learned that the firm is constantly evolving and is open to trying new things. It is very gratifying to work for a company that is receptive to recommendations and is nimble.
My fun fact is my nickname is "Fun Janice," given to me by my first grandchild, Emmie, when she was just learning to speak and truly thought that was my name. It was a little sad when I told her years later that wasn't my actual name, kind of like when a child learns there is no 'tooth fairy.'