Marisa Luera uses her 20+ years of experience and expertise in state and federal Medicaid policy, managed care implementations, and related programs to support clients across the country including her home state of Texas. Her current portfolio includes Medicaid managed care initiatives and procurements, department of aging programs, and stakeholder engagement projects.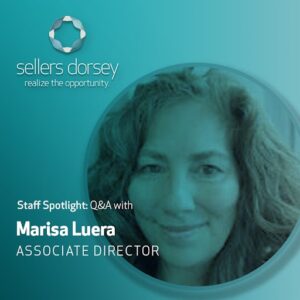 What brought you to Sellers Dorsey?
Prior to joining Sellers Dorsey, I worked primarily in the nonprofit and public sectors. Sellers Dorsey was appealing because it provided an opportunity to work with a broad range of clients on diverse projects at the state and national level. Sellers Dorsey also was enticing because I had worked with many of the Texas-based Sellers Dorsey team members previously, and I respect and appreciate their work ethic, can-do attitude, and sense of humor.
What's your special area of expertise?
Based on experience gained in the nonprofit and legislative spaces, as well as during my tenure with the Texas Health and Human Services Commission implementing and overseeing several managed care and related initiatives, my areas of expertise include strategic planning, program implementation, and policy development with a concentration in Medicaid managed care. Being able to help clients achieve their goals and ultimately support individuals who, as a result, receive services more effectively is truly rewarding.
Who are your typical clients?
Clients include states, managed care organizations, counties, providers, and others.
What have you worked on recently?
One of the key initiatives I've been working on involves building and expanding a state's No Wrong Door System to support people needing long-term services and supports. This project has involved engaging key stakeholders to rethink how they work with each other in order to more effectively serve individuals with disabilities and older adults, especially in light of current workforce issues and additional strains placed on caregivers as a result of COVID-19.
What do you like about working at Sellers Dorsey?
I love working alongside of colleagues who are smart, creative, committed, and who ultimately care about the people being served by the programs we support. It is also great having access to colleagues around the country who are willing and able to share their expertise and perspectives as we work together to best serve our clients. Last but not least, it is a treat to work with our amazing clients!
Do you have a favorite book, movie, quote, or personal hobby you can share?
It's easy to get caught up in the busyness of life—so many deadlines, responsibilities, and distractions—and some days are wonderful, while other days can be really challenging. This quote from Marcia Ball's "Human Kindess" helps me center and maintain perspective: "The world is what we make it, every day."  There are so many things I cannot control, but I have control over my actions and values and how to live each day for myself and the people around me.