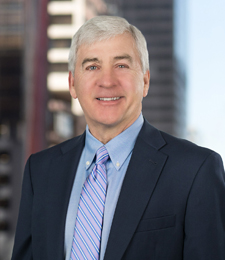 Tom Traylor
Senior Strategic Advisor
Education
Northeastern University, MBA
Holy Cross University, BA
Current Responsibility
Tom works with the firm to help hospitals and health plans across the country to further their missions to deliver quality care to vulnerable populations by leveraging the firm's Medicaid financing and policy expertise. Tom recently concluded his 20-year tenure as Vice President for Federal, State and Local Programs at Boston Medical Center (BMC).
Experience
As the Vice President for Federal, State and Local Programs at BMC, Tom oversaw planning and negotiation with the Federal and State governments regarding programs for individuals utilizing Medicaid and other programs for low-income citizens. He was instrumental in creating funding models and mechanisms to enable Boston Medical Center and other safety net hospitals to continue to provide quality care to low-income populations. Tom additionally founded and functioned as Vice President of BMC's HealthNet Plan, one of the largest Medicaid managed care plans in Massachusetts with its 250,000 members, and one of the highest rated Medicaid plans in the country.
Before joining BMC in 1996, Tom spent ten years as commissioner and CFO at the Boston Department of Health and Hospitals. Through his work, Tom helped bring about Massachusetts' participation in its critical first Medicaid 1115 Waiver to expand health coverage to underserved populations in the Commonwealth. He was engaged in the design of each of the six succeeding waivers, directly impacting Massachusetts Medicaid, known as MassHealth. In 2006, he served on Gov. Deval Patrick's healthcare transition team. Resulting from his impactful leadership in the field, in 2013 Tom was named board chair of America's Essential Hospitals (previously known as National Association of Public Hospitals). Tom also worked closely with the Association for Community Affiliated Plans (ACAP) and served on the Executive Council of 340B Health.