Marty Sellers is the Cofounder and Chief Executive Officer of Sellers Dorsey. For over 20 years, Marty has built a team that continues to have a profound impact on improving health care access, quality, and equity for the Medicaid population. Under his leadership, the firm combines a perspective on health care policy, understanding of politics, and experience in the technical aspects of health care delivery and reimbursement to produce results for our clients and the communities they serve.
Marty works on a select list of client engagements that focus on state and federal health finance and policy issues. He also focuses his time on expanding the firm's footprint into new industries and markets through innovation, relationship development, and strategic action.
Marty's career spans over four decades and is based in both the public and private health care sectors. Before cofounding the firm in 2000, Marty built one of the nation's largest state-based health care government relations firms, specializing in facilitating relationships among health care providers, states, health plans, and the federal government. Prior to his consulting career, he worked in both the legislative and executive branches in the Commonwealth of Pennsylvania.
What was the impetus that led you to create Sellers Dorsey?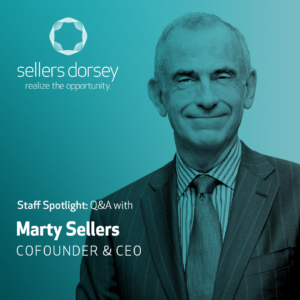 Before Sellers Dorsey, my career in government and at a lobbying firm was centered at the intersection of Medicaid policy and politics. Having seen the importance of Medicaid as a vital health care delivery system and experiencing the importance of the safety-net system within my own family, I knew there were opportunities to further strengthen Medicaid and develop solutions that could ultimately help people. Sellers Dorsey was created around the ideal that we could bring together the state and federal governments with the private sector to create transformational change.
What's your special area of expertise?
My background was in budget oversight and legislative appropriations, specifically within the human services arena. Because of my experience in state government, my areas of expertise lie at the intersection of politics and policy. Throughout my career and because of my belief in the power of relationships, I've been able to help clients understand where their goals align with others in Medicaid. This intersection of government relations and Medicaid financing and policy is where Sellers Dorsey first took root.
Who have your typical clients been?
When Sellers Dorsey began, my clients were initially state Medicaid agencies. As the firm grew, I began to work with major public and private hospitals and health systems, too. My client work has spanned every region in the entire country from coast to coast.
What have you worked on recently?
As CEO, I've been working with our teams to expand our service offerings and respond to the growing needs of safety-net providers. The COVID-19 pandemic helped crystalize the critical nature of our nation's safety net and the growing needs of safety-net hospitals and other providers. To be responsive to those needs, we have been developing, refining, and growing important initiatives related to ambulance programs, health equity, and value-based care. In the past few years, the firm has seen tremendous growth due to the growing need of the market, so we continue to expand our scope of services to support clients.
What do you like about working at Sellers Dorsey?
The best aspect of Sellers Dorsey is the people on the team. I take great satisfaction in seeing my colleagues grow professionally and advance their careers at the firm. Our unique culture is one of the core pillars of Sellers Dorsey that contributes to our success.
How has your work changed over time?
At first, Sellers Dorsey primarily focused on Medicaid financing initiatives for state Medicaid agencies and providers. Over time, the firm has grown to offer additional consulting services for other stakeholders, such as managed care organizations, solution partners, and more. Although the firm's scope has expanded, our core mission to improve quality and access in health care remains constant. Throughout this expansion, my role as a leader has increasingly shifted to be more of a mentor and to empower my colleagues to deliver successful results for our clients.
What do you believe lies ahead in the next couple of years for your clients?
Although industry-wide challenges, such as workforce shortages or lack of other resources, affect both urban and rural providers alike, they require different solutions. In addition to rural health care providers, other segments of the health care industry in need of more robust support are safety-net hospitals, long-term services and supports providers, and federally qualified health centers. As a result, we are increasing our efforts to strengthen these essential delivery systems through tailored approaches.
What is one important thing you have learned during your time at Sellers Dorsey?
One crucial lesson I've learned is to be open to new possibilities. Especially in health care, it's important to innovate while remaining anchored to our core mission to improve access, quality, and equity. Being on the cutting edge enables us to develop novel, successful solutions for our clients and to positively impact the lives of those who rely on the Medicaid program.
Do you have a favorite book, movie, quote, or personal hobby you can share?
One of my favorite films is Saving Private Ryan. Captain Miller faced great risk by going to war primarily trained not as a soldier but as a schoolteacher. I admire his development into an effective leader for a greater cause.