Jennifer Duffy oversees Sellers Dorsey's New Jersey practice, which is responsible for implementing Medicaid programming and financing for Sellers Dorsey's public and private clients. Jennifer brings a wide breadth of technical and management experience and is also valuable in the execution of initiatives in other states around the country.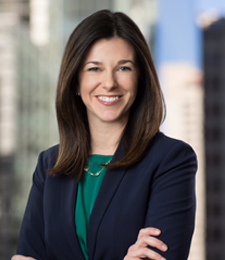 What brought you to Sellers Dorsey?
I am grateful to Mark Smith for recruiting me to Sellers Dorsey and to the Corporate and Management teams for their patience as the process took more than a year. On the same day that Mark delivered the firm's offer letter, my governor whom I had spent the last eight years working for asked me to do one last tour with his administration as the Director of Appointments. Governor Christie, his Chief of Staff and Chief Counsel needed someone to see through the rush of nearly a thousand candidates for judicial, prosecutor, authority, boards and commission positions. Given the firm's very close understanding and appreciation of politics, you don't say no to the governor. In December 2017, I joined Sellers Dorsey.
What's your special area of expertise?
My career to-date has been in and around New Jersey politics, and very special times it has collided with policy like in my current role. I care deeply about the Garden State and find it extremely rewarding that I can transition ideas into policy and program with a goal of financing the caring for our residents in most need.
Who are your typical clients?
The New Jersey state practice's primary client is the State of New Jersey through the Office of Management and Budget, the Department of Human Services, and the Division of Medical Assistance and Health Services. They trust and rely on us to design, implement, and maintain programs which provide critical funding to benefit the public medical schools, safety net hospitals, and nursing facilities within the state.
What have you worked on recently?
Our team has been in high-gear focused on designing two new programs. The first is a local hospital assessment that will benefit 50 hospitals within seven counties. The other will benefit one of the state's largest safety-net hospitals and nursing facilities which sees 90-100% Medicaid population. This is in addition to operating a physician upper payment limit program for the practice plans affiliated with the state's two public medical schools. Each of these programs involves a number of internal and external stakeholders from federal, state and county governments, hospitals big and small, and, importantly, the patients receiving care. We carefully think through and coordinate with everyone involved so these initiatives work well for the longevity and success of the program.
What do you like about working at Sellers Dorsey?
I work alongside a dream team that shows up curious and ready to tackle challenges every day. We share the same goal in doing good work and doing it well. I also appreciate every day that I have the opportunity to work with former colleagues of whom I have the utmost respect for their work ethic, knowledge, and resourcefulness.
What is one important thing you have learned during your time at Sellers Dorsey? Alternatively, is there something else you would like to share?
"To know New Jersey is to love her" — Anthony Bourdain