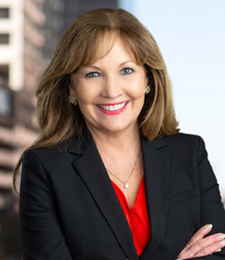 Nancy Smith-Leslie
Managing Director
Education
Ohio University, BA, Journalism
Current Responsibility
Nancy Smith-Leslie is a seasoned health care executive with 20 years of experience in health care policy, programs, and operations. As a former Medicaid director, Nancy leverages her operational and management experience to provide strategic and technical advisory, relationship support and management strategies to state Medicaid agencies, managed care plans, health care providers, and more.  Nancy is a thought leader on managed care program innovation and payment reform with a proven track record for helping public and private entities expand their programs, services, and products and improve health outcomes.
Experience
Prior to joining the team, Nancy served as the Director of the Medical Assistance Division of the New Mexico Human Services Department where she oversaw the re-procurement of the managed care program and re-negotiated the Section 1115 demonstration waiver, securing federal funding for several new programs, including a home visiting program for pregnant women, expanded home and community-based services, supportive housing services, and new substance use disorder services. Prior to serving as Director, Nancy served as the Deputy Director with oversight of the managed care program, including long-term supports and services, and was responsible for the implementation of the integrated managed care program known as Centennial Care.
In 2015, Nancy was selected as one of six Medicaid Directors to participate in the Medicaid Leadership Institute, a national fellowship program sponsored by the National Governor's Association and the Center for Health Care Strategies.