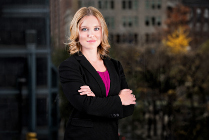 Arianne Sellers
Senior Consultant, Corporate Strategy
Education
University of Pennsylvania, M.P.A., Public Administration
Washington College, B.A., Political Science
Current Responsibility
Arianne Sellers serves as Senior Consultant of Corporate Strategy with Sellers Dorsey. In this role she collaborates with the firm's VP of Corporate Strategy on the development and implementation of its corporate strategic plan, incorporating alignment with current market trends and federal/state policy changes. Arianne's responsibilities include business and product development as Sellers Dorsey continues to expand its footprint in the Medicaid financing space and advances other programmatic solutions to enhance the delivery of public healthcare for the underserved.
Additionally, Arianne manages select client engagements, directing project implementations and operational delivery for the team in the areas of Medicaid financing and revenue maximization, Medicaid managed care, business development, provider policy and reimbursement. An accomplished policy researcher and analyst, she brings with her a unique perspective having worked in various healthcare associations and government organizations. Arianne has extensive experience in state and federal policy with a focus on policy development and government relations.
Experience
Prior to joining Sellers Dorsey Arianne served as Policy Manager at the Convenient Care Association and National Nursing Consortium analyzing regulatory policies surrounding retail clinics, scope of practice, telemedicine, Medicare and Medicaid programs, provider credentialing, and healthcare reform.  She drafted legislative and regulatory language, testimony and comments for state and federal policy initiatives and conducted healthcare policy analysis and studies, in addition to composing policy briefs and white papers.