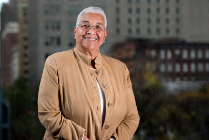 Estelle Richman
Senior Strategic Advisor
Education
MA Cleveland State University
Doctorate Alvernia University
Doctorate Drexel University
Awards
1998 Ford Foundation/Good Housekeeping Award for women in government
1999 Innovations in American Government award from the Kennedy School of Government at Harvard University
Current Responsibility
Estelle, a Senior Strategic Advisor for Sellers Dorsey, provides guidance to the firm and to select client engagements. Estelle specializes in the in the sectors of public health, behavior health and Medicaid policy.
Experience
An expert in social services and health issues, Estelle has dedicated over 30 years of her career to public service, holding multiple positions within state and local government. She has served as the Secretary of the Pennsylvania Department Public Welfare, the managing director for the City of Philadelphia, Philadelphia Commissioner of Public health, and the Deputy Commissioner for Mental Health, Mental Retardation, and Substance Abuse Services. She was also the Chief Operating Officer of the U.S. Department of Housing and Urban Development.
Ms. Richman has received multiple honors for her advocacy efforts by the National Alliance on Mental Illness, the American Psychiatric Association, and the American Medical Association.