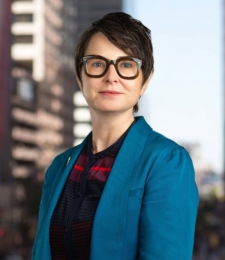 Michele McGinn
Managing Director
Education
Kansas State University, B.S., Business Management and International Business
Current Responsibility
At Sellers Dorsey Michele McGinn works to garner funding for vital providers of public health care. Having years of organizing experience, Michele works to strengthen reimbursement and improve access to healthcare services across the country for stakeholders, providers, and states.
As Managing Director, Michele provides assistance in federal and state health policy issues, provider assessment initiatives, Medicaid reimbursement policies, program management and implementation, and stakeholder relationship strategy. She has provided technical and policy expertise in the development and implementation of revenue maximization initiatives in California, Nevada, Colorado, Utah, Illinois, and Florida.
Experience
Prior to joining Sellers Dorsey in 2011, Michele worked for Service Employees International Union (SEIU), most recently as their Safety Net Program Co-Director. In this role she co-developed a program to bring together SEIU's political and technical capacity to partner with safety net hospitals in order to further the goals of both the union and the hospital provider. This included leading negotiations and finalizing agreements with CEOs and CFOs at public and private hospitals across the country.
Michele also directed a major program serving the needs of Chicago's uninsured. To engage stakeholders, she developed relationships with hundreds of non-profit organizations, churches, politicians and community groups to educate their clientele, members and constituents about the program. These outreach efforts resulted in 11,000+ members signing to the program within 6 months. Michele also managed a team of legal and volunteer activists to help uninsured patients navigate the healthcare system and resolve their bills.