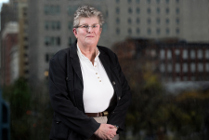 Nancy Lucas
Senior Strategic Advisor
Education
University of Rhode Island, BA, Psychology
Glassboro State University, MA, Psychology
Temple University, MPA, Public Administration
Current Responsibility
As a Senior Strategic Advisor, Nancy Lucas provides guidance to both the firm and select client engagements. Nancy specializes in the in the sectors of behavior health, managed care and Medicaid policy.
Experience
Nancy has served as the CEO and COO for Community Behavior Health in Philadelphia, a $750M not-for-profit corporation contracted by the City of Philadelphia to provide mental health and substance abuse services for Philadelphia County Medicaid dedicating nearly 20 years to the company. As the COO for CBH, Nancy was responsible for oversight of all clinical and administrative functions. She also supervised Clinical Management, Network Development, Human Resources, Training and Administrative Management departments. Ms. Lucas also served as the Director of Managed Care Programs and the Director of Programs for the PMHCC, serving as the liaison between Philadelphia Department of Public Health (PDPH) and Medicaid HMOs and Medicaid behavioral MCOs and helping providers and MA recipients negotiate MA MCO problems. During her time with the PMHCC, Nancy created Community Behavioral Health under guidance of the City Office of Mental Health (OMH) and PDPH. Nancy held multiple positions within State government including, Legislative Budget Analyst, for the Pennsylvania House of Representative and Management Policy Analyst for the Bureau of Management Services.
Nancy has also spent the past 23 years as a Board Member for Montgomery Early Learning Centers, a group of child care centers in Pennsylvania committed to providing the highest quality education and care and address the unmet needs for child care, especially for those of low-income families.