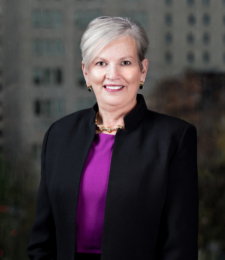 Nancy Kohler
Senior Consultant
Education
University of St. Francis, MHSA, Health Services Administration
York College of Pennsylvania, BS, Health Information Management
Certifications
Master's Certification in Applied Project Management, Villanova University
Registered Health Information Administrator (RHIA), AHIMA
Certified Professional Association in Healthcare Quality (CPHQ), NAHQ
Current Responsibility
As a senior consultant at Sellers Dorsey, Nancy provides assistance on Federal and state health policy issues, financial analysis, and project management. She  provides assistance to the Harrisburg office, working state policy initiatives for the commonwealth.
Experience
Prior to joining the firm, Nancy played a key role in the implementation and operational aspects of the Statewide Quality Care Assessment for the PA Department of Human Services (DHS). Over the last five years, the initiative has provided millions of dollars in revenue to the DHS which has facilitated the updating of their payment system, recalculation of the fee-for-service base rates and allowed for the modernization of the PA Medicaid hospital payment programs.
Nancy has a comprehensive portfolio of experience that includes both large and small scale public health program operations, policy development, implementation, fiscal analysis and strategic positioning. She spent over 20 years at KePRO, dedicating the last 6 years of her tenure as the VP, Public Programs. In this role she managed a staff of more than 125 employees that provided integrated care management solutions to Medicaid patients in several states. Her years of experience allow her to collaborate effectively with key stakeholders, leverage performance management, organizational effectiveness and process improvement to boost efficiency, drive innovation and most importantly deliver results.