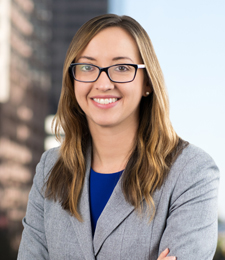 Meredith Hughes
Senior Consultant
Education
University of Pittsburgh, J.D., Law
University of Pittsburgh, MPH, Public Health
American University, BA, Political Science and Philosophy
Current Responsibility
Meredith Hughes focuses on Community HealthChoices (CHC), Pennsylvania's new managed long-term services and supports program. Her work includes supporting compliance with federal home and community-based services (HCBS) reporting requirements, drafting operations memos and reports, developing policies and procedures, and facilitating procurement activities. Meredith has also recently taken on a leadership role in drafting and researching a report on improving veterans' health and long term care services for the DHS and the Department of Military and Veterans Affairs. Additionally, Meredith serves as a member of the firm's Next Generation group, a committee of emerging leaders, experts and staff from across the organization.
Experience
As a Senior Policy Analyst for the University of Pittsburgh Health Policy Institute, Meredith conducted research for the Pennsylvania Department of Human Services and provided advice to key state decision-makers on transitioning to managed long-term services and supports (LTSS), home and community based services, dual eligibles, the use of waiver authorities, innovative state approaches to Medicaid program design, intellectual and developmental disabilities, access to care, cost-effectiveness, data transparency, and medical homes. She also identified and analyzed state legal and regulatory approaches to family caregiver support and co-authored a report for the Stern Center for Evidence-Based Policy on family caregiver laws.
While working as a Regulatory Consultant for the Pennsylvania Department of Human Services, Meredith completed a regulatory analysis of the new Medicaid managed care final rule and the CHC draft contractual agreement. She also supported program planning and decision making related to program implementation, Medicaid payment policy, and benefit design. As a Policy Analyst at the Bipartisan Policy Center (BPC), Meredith co-authored a series of reports on health care spending growth and cost containment and advised the BPC Governors' Council on Medicaid policy issues.