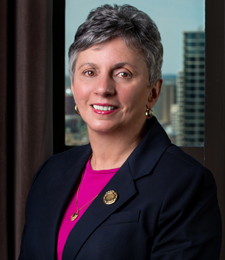 Fran Grabowski
General Medicaid Counsel
Education
Dickinson School of Law, Juris Doctorate
Marywood College, BA
Associations
American Health Lawyers Association
Pennsylvania Bar Association
Current Responsibility
Fran assists the team with state client engagements on a wide variety of complex issues relating to federal and state Medicaid statutes, regulations and policy. With experience in health care policy, the Affordable Care Act, and Medicaid financing regulations, Fran has been providing advice and counsel for over 35 years in the Commonwealth of Pennsylvania. Most recently, she provided strategic guidance and facilitation to the Commonwealth of Pennsylvania's Long Term Care Commission, reviewing existing long term care systems and providing recommendations for improvement.
Experience
Prior to joining Sellers Dorsey, Fran was a Principal within Post & Schell's Health Law Practice Group where she focused her practice on Medicaid legislative and regulatory matters, including the requirements of the Patient Protection and Affordable Care Act (PPACA), provider health care related taxes, federal funding initiatives, hospital and long-term living services, provider participation, reimbursement and compliance, program integrity and provider fraud and abuse.
Before entering the private sector, Fran was employed for 35 years as an attorney with the Pennsylvania Governor's Office of General Counsel, Department of Public Welfare. She ended her career in public service after serving as the Department's Deputy Chief Counsel for approximately 5 years. In that capacity, she advised senior management staff on issues relating to Federal and State Medicaid statutes, regulations, and policies, Federal health care reform, Medicaid fraud and abuse, Medicaid provider tax requirements, Medicaid provider reimbursement, enrollment and participation requirements and administrative law. She also supervised staff counsel assigned to advise Department officials and staff and to represent the Department of Public Welfare in federal and state courts and administrative tribunals in litigation involving the Medical Assistance Program. Fran served a one-year term as Chair of Administrative Law Section and a three-year term as Vice-Chair of the Health Law Committee for the Pennsylvania Bar Association.