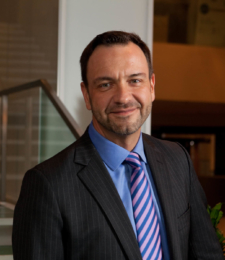 Education
Wilkes University, BA, Organizational Communications
Certifications
International Coaching Federation
Executive Coach, Management Performance consulting
Organizations
The Trevor Project, Member, Board of Directors
Current Responsibility
As co-owner of Sellers Dorsey, Brian Dorsey works with the CEO to develop organizational strategy and direction. He provides a history of knowledge of the firm and its vision since its inception in 2000. He offers council on driving the corporate mission and works with the COO to ensure that innovative management concepts are used to improve operations.
Experience
He has served as Communications Director for two statewide healthcare organizations and has worked as an independent public relations consultant. In Pennsylvania, Brian is most proud of his role in the 1991 launch of the VISION USA™ program sponsored by the American Optometric Association, which provided basic eye health and vision care services at no cost to uninsured, low-income people and their families.
The firm is committed to seeking solutions that improve the healthcare of all. Brian leads initiatives underwritten by the Sellers Dorsey Foundation, which was established by the owners in 2011 to fund the improvement of public health programs, specifically "patient centered" healthcare delivery to the LGBT community.