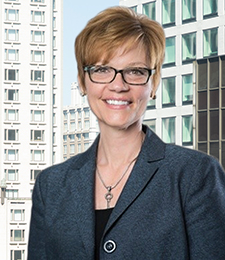 Mindy Braithwaite
Senior Vice President
Education
Gonzaga University, MA, Organizational Leadership
University of Scranton, BS, Mathematics
Current Responsibility
Mindy provides support to our staff who oversee the firm's infrastructure. She oversees a range of items related to human capital including talent acquisition, development and training, and performance management. She is based in our Philadelphia office.
Experience
Mindy's background in business and human resource leadership includes more than 20 years of expertise across a range of industries. She has served in executive roles in operations and human capital management and has been recognized for building the business processes and infrastructure necessary for teams to produce outstanding results. Prior to joining Sellers Dorsey, Mindy served as a Principal Consultant at Kaleidoscope Consulting, where she led clients in evaluating, designing, and implementing operational and general human resources best practices. Her work focused on executive coaching, recruitment plans, talent development and retention, and performance management.
Previously, Mindy was a Senior Human Capital Consultant at Exude, Inc., where she worked in the deployment of strategic HR consulting products and services, including organizational health assessments, development and implementation of strategic workforce plans, and cultural alignment work. Mindy also served as Vice President of Human Resources Shared Services at Steward Health Care System. In this role, she was responsible for leading the build out of human resources shared services to deliver common HR services across the Steward Enterprise. She specifically helped design, implement, and manage the entire HR Shared Services model and HR technology infrastructure build.