Providers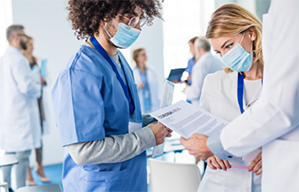 Working at the intersection of industry and government, we help hospitals, physicians, ambulance, and other providers increase access, quality, and reimbursement for Medicaid services.
State budgets create pressure on Medicaid program spending, and vice versa.

Movement to value-based care is increasing in pace and complexity.

Access to supplemental funding requires technical, policy, and political abilities providers do not have in house.

Medicaid managed care requires navigating evolving complexities and requirements.
With expertise in Medicaid financing, value-based care, and Medicaid managed care, Sellers Dorsey helps providers to fund and strengthen their Medicaid services according to their unique needs and the policy objectives of states and CMS. We offer providers these and other services:
Medicaid revenue opportunity evaluations

Revenue enhancement via programs in fee-for-service and managed care

Other programs such as DSH, value-based and alternative payment models, GME, DSRIP, and provider assessment initiatives

Value-based payment strategy development, quality measurements, and compliance, as well as financial data analysis modeling

Provider strategic planning for Medicaid and managed care
Our reputation in this field is one of innovation and accomplishment. Working with Sellers Dorsey, our provider clients have benefited from:
The first physician UPL program, the first local hospital assessment program, and the first non-healthcare related provider assessment

Well over $19 billion in new federal funding to date

Successful implementations of value-based payment models

Strategic planning for Medicaid and managed care

Medicaid supplemental payment programs for ambulance providers

Nursing home UPL programs