Tanya Boone assists and advises Sellers Dorsey clients by enhancing their Medicaid financing to improve health access and outcomes for the individuals and populations they serve. She works closely with hospital executives and state Medicaid directors to guarantee our program design, from start through implementation, meeting and exceeding expectations for our clients and their communities. Tanya also supervises and mentors many Sellers Dorsey staff members, empowering their success and supporting the ongoing growth of the organization. She brings a wealth of expertise from previous leadership roles at GE Healthcare, Procter & Gamble, and as a Principal with Hilltop Slate, Inc. Prior to these roles, Tanya served as National Deputy Organizing Director—Health Systems Division with the Service Employees International Union (SEIU). Working in this role for more than 12 years, she used her keen leadership skills to drive intense and successful campaigns across the country.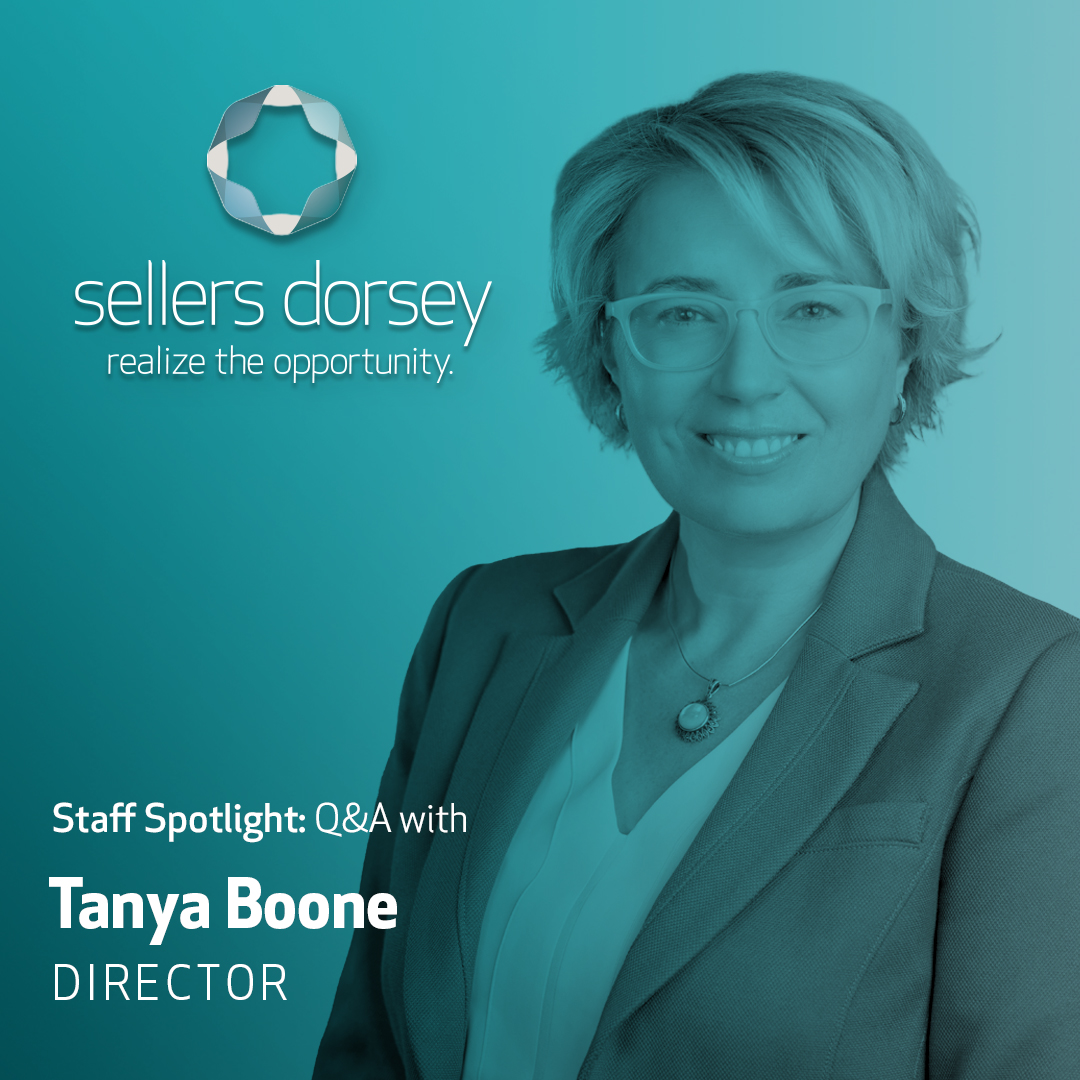 What brought you to Sellers Dorsey?
I was referred to Sellers Dorsey because of my experience running campaigns in the health care space. When I joined the firm, I saw—and I still see—a lot of similarities between running campaigns and successfully shepherding Medicaid initiatives for our clients.
What's your special area of expertise?
I drive action. Because of my campaign background—both union and a short stint running for office myself—I think of our work through a political lens. I believe politics is the way we get things done, and policy is the why. The work we do with clients must connect to states' overarching goals to address specific challenges in health care for their residents.
Who are your typical clients?
I generally work with Government Relations leaders, CFOs, and Quality folks at providers including safety-net hospitals, physician groups, and academic medical centers.
What have you worked on recently?
Two recent in-process projects are in Georgia and Florida. The first aims at advancing health equity by replacing charitable donations with sustainable funding to address chronic disease, maternal mortality, and social determinants of health, such as food security. The other addresses physician shortages by enhancing payments for Graduate Medical Education.
What do you like about working at Sellers Dorsey?
The people I work with every day, both colleagues at Sellers Dorsey and our clients, are the highlight. My colleagues at the firm are not only some of the smartest people I know but also extremely generous with their time to ensure our projects' success and the success of our colleagues as they progress in their careers. I also love engaging directly with clients. I learn something new from our clients every day. They are fantastic, and I admire the crucial work they do providing care to underserved populations.
What is one important thing you have learned during your time at Sellers Dorsey?
I've learned that everyone on our team plays a crucial role in delivering for our clients. Whether it's former state Medicaid experts, former provider Quality leaders, reimbursement experts, state lobbyists, or the project manager—everyone has their unique value-add to the team and project. Another is to always listen to clients' needs and incorporate them into our work. Our work supplements the critical work they do—so we must clarify decision points, options, and considerations to keep things moving along.
Do you have a favorite book, movie, quote, or personal hobby you can share?
Skiing! I'm originally from upstate New York and ski as much as possible. Outside in the trees, generally no cell phone service, gravity does most of the work, what could be better?