Karla has a strong background in health care analytics and value-based care. She uses her skills in health care finance, quality, and metric development to serve Sellers Dorsey clients, assisting them in the development of programs focusing on changing the way care is delivered and improving outcomes for their highest risk patients.
What brought you to Sellers Dorsey?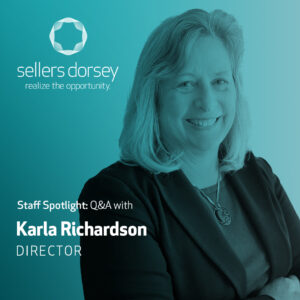 Three years ago, I was working on the quality components of an initiative for a coalition of providers. Through this work, I got to know the Sellers Dorsey team that was supporting the project. Since I was looking for a change at the time, the high caliber of Sellers Dorsey eventually led me to join the firm.
What's your special area of expertise?
My entire career has been in the health care industry. Over the course of my previous experiences, I've worn many hats. The areas I have focused on include finance, budgets, and cost containment as well as data analytics, quality reporting, and federal quality programs related to accountable care organizations, Medicaid, and oncology, among others.
Who are your typical clients?
I typically work with safety-net hospitals, teaching hospitals, and physician groups. Before coming to Sellers Dorsey, I worked for a physician group, University of Toledo Physicians, as the Director of Value-based Care and a teaching hospital, University of Toledo Medical Center. These experiences inform my current work at the firm.
What have you worked on recently?
Over the last year, I've been working on new, innovative quality programs with a variety of clients. I'm helping my clients use data to demonstrate the impact of Medicaid financing programs on their workforce. My work goes beyond the physician workforce and explores innovative ways to also grow nursing and allied health staff. Comparing the workforce demographics with regional demographics, we're finding ways to improve quality of care by ensuring health care professionals reflect the communities they serve.
What do you like about working at Sellers Dorsey?
Sellers Dorsey is a great place to work because of all my amazing, smart colleagues. They embody the spirit of teamwork so that the firm and our clients succeed. Although I have a lot of health care experience, I still have the opportunity to learn every day at Sellers Dorsey. I know that my work is helping make a valuable impact in the communities our clients serve.
How has your work changed over time?
The majority of roles that I've held throughout my career didn't exist before I took them on. My approach has always been—and continues to be—to accept new opportunities and to find a way to achieve the end goal. When I was working on the provider side, our focus was more on providing care rather than larger state and Federal healthcare strategy. Joining the firm created a paradigm shift for me. Now I am helping clients design and implement Medicaid financing programs in order to expand access for Medicaid members. My work still supports clients in delivering high-quality health care but has grown to bring Medicaid financing into the equation as an additional tool with a focus on improving care for the Medicaid population.
What is one important thing you have learned during your time at Sellers Dorsey?
One thing I never cease to be amazed by is the astounding work my clients are doing to serve their communities. Even during the pandemic, providers have not only maintained but improved quality of care through innovative delivery models. Working with clinicians and other professionals on the front line keeps me on the cutting edge of health care so that together we can make a difference.
Do you have a favorite book, movie, quote, or personal hobby you can share?
I have several hobbies that help feed my creative side. Gardening, stained glass, community theater, and a rapidly growing number of grandchildren consume my "free" time.