Karen Brach is the former President and CEO of Meridian Health of Illinois. In that position, Karen led the largest statewide Medicaid Health plan serving over 800,000 members in Children/Families, ACA Adults, Dual Eligible, Long-Term Care, HCBS, and Foster Care programs. As a managed care executive with more than 20 years of experience in Medicaid and Medicare, she oversaw all aspects of plan performance including contract compliance, financial performance, rate adequacy, medical/quality programs, network management, Medicaid policy, and government affairs strategy. In addition, Karen was appointed to the State of Illinois Medicaid Advisory Committee and was the past President of the Illinois Medicaid Health Plan Association.
Preceding her time with Meridian, Karen was the Vice President of Medicaid for Blue Cross Blue Shield of Illinois. She oversaw all Illinois Medicaid program contracts and the Medicare-Medicaid Demonstration. From 2002 to 2012, Karen held a variety of Senior Leadership positions with Amerigroup and UnitedHealthcare including Health Plan CEO, Executive Director, and Vice President of Business Development. She has experience working with state Medicaid programs in Florida, Illinois, Tennessee, and Arizona. She was accountable for contract execution and performance and strategic growth initiatives and served as the primary contact for all state, regulatory, and advocacy stakeholders.
What brought you to Sellers Dorsey?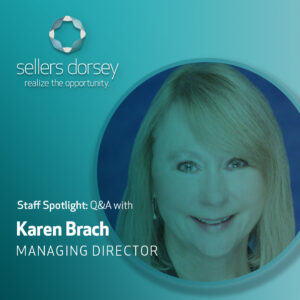 Before I came to Sellers Dorsey, I had held leadership roles at Medicaid managed care plans. When I met the Sellers Dorsey team, I was looking for a way to continue making an impact on people's lives. I have a place in my heart for Medicaid, so the opportunity to contribute to member outcomes through managed care made Sellers Dorsey a perfect match for me.
What's your special area of expertise?
One area I specialized in is long-term services and supports (LTSS). More broadly, my career has focused on all aspects of managed care organizations' (MCOs) participation in various state Medicaid programs. In addition, my undergraduate degree in nursing has always complemented my work with statewide Medicaid managed care programs serving dual eligibles.
Who are your typical clients?
As part of the National Consulting Practice, I provide end-to-end consulting services for managed care. I assist clients on a range of initiatives from MCO procurements to addressing social determinants of health. My clientele spans many regions across the U.S. and includes health plans covering dental, vision, and behavioral health services in managed care.
What have you worked on recently?
Recently, I've been increasingly working with various state health plan associations as well as with national trade associations.
What do you like about working at Sellers Dorsey?
The diversity of clients and initiatives I support makes working at Sellers Dorsey exciting, and the firm's amazing culture keeps me constantly engaged. My colleagues' wealth of experience and knowledge challenges me to continue to grow professionally. At Sellers Dorsey, we all help each other in the spirit of teamwork.
What do you believe lies ahead in the next couple of years for your clients?
One major milestone for all health care stakeholders will be the eventual unwinding of the public health emergency. It will bring both opportunities and challenges for states, MCOs, providers, and vendors. When states begin to adjust course, I expect to support my clients in finding creative ways to improve access and health equity. In particular, I believe telemedicine will continue to play an important role in expanding access to health care in the future.
What is one important thing you have learned during your time at Sellers Dorsey?
Since I came from the health plan sector, my perspective has changed by working at Sellers Dorsey. I learned that I can make a significant impact for Medicaid members from the consulting sector, too. Seeing how invested the firm is in its clients and in driving outcomes has helped me see firsthand the firm's value.
Do you have a favorite book, movie, quote, or personal hobby you can share?
I'm a total cineast and love watching films in my spare time. Nothing can compare with a zippy bon mot that sticks with you for years. I do enjoy a lot of different genres though. Some of my favorites include classics like Risky Business and Philadelphia and even new works like Sing.