January 2022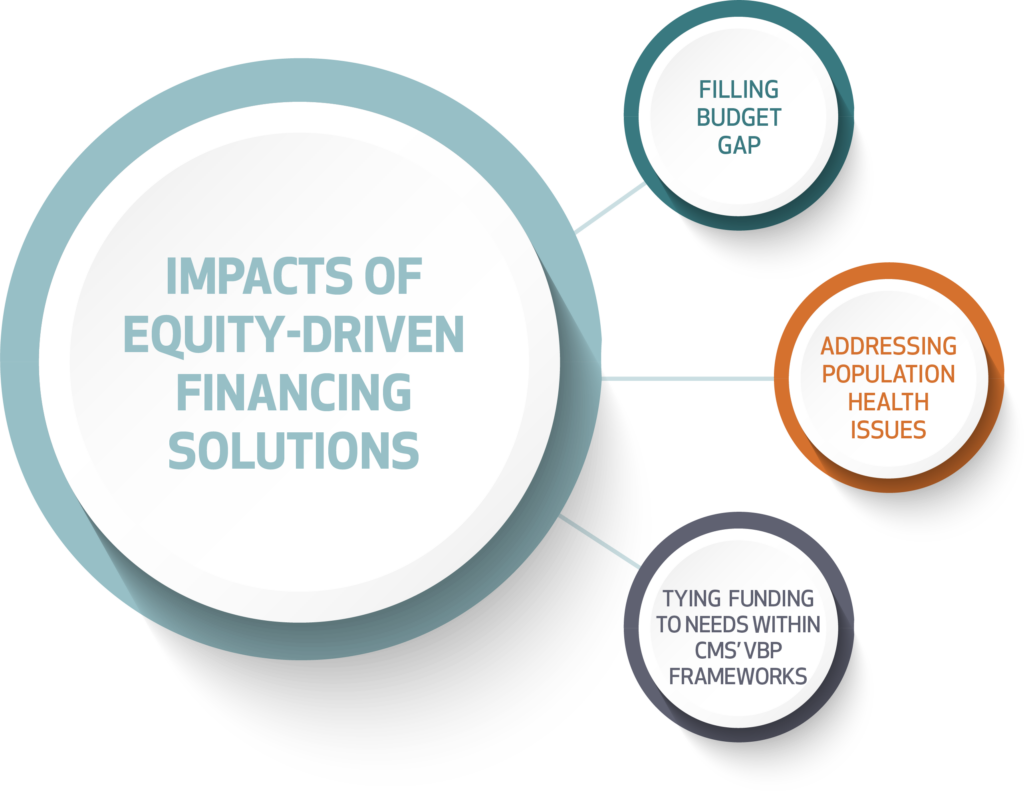 The focus on health inequity has become a glaring spotlight during the pandemic, as the significant difference in cases and deaths across racial and ethnic populations makes clear the disproportionate impact on specific population groups. The alarming data around the impact of social determinants of health (SDOH) on health outcomes are driving many health systems, providers, and state Medicaid agencies to look more closely at how they implement programs to drive specific population health outcomes. However, Medicaid reimbursement levels are inadequate to meet population health problems, and obtaining sustainable funding for these programs has therefore been a challenge in moving such initiatives forward.
Now, health care entities are increasingly adopting Medicaid value-based payment approaches and are beginning to incorporate equity-focused Medicaid supplemental funding to reduce health disparities. These Medicaid supplemental payment programs are designed to improve outcomes and align with specific population health goals. Just as health systems and providers have increasingly shifted their goals from the quantity of patients treated to the quality of treatment provided in line with value-based care models, leading providers are rethinking how they set goals for the use of supplemental funding.

Better results with better partners
It is important to follow a technical structure that complies with the Centers for Medicare and Medicaid Services' (CMS) rules and includes the key elements required of any Medicaid financing initiative. Programs created within a Medicaid managed care environment must also utilize a nationally recognized value-based payment framework. This is an area where it helps to work with an experienced Medicaid financing partner.
Working closely with an experienced partner who has policy knowledge and political know-how to develop Medicaid funding programs provides an opportunity to develop more targeted, value-based goals for addressing inequities in health. This partnership can also connect organizations working toward the same goals. Sellers Dorsey has connected large organizations across states, helping them work more consciously toward shared value-based outcomes. By harnessing this synergy, organizations can create better workflows and implement more impactful programs.
Building stronger connections
Programs that are driven to address SDOH are another key opportunity for supplemental funding to make a community impact and address race- and class-based inequities in health. With appropriate funding, health care entities are able to implement SDOH screenings to help capture data around gaps in care. Through more frequent and effective SDOH screening, health care providers can begin to identify opportunities and develop recommendations for where to focus funding.
Asking the right questions around SDOH has identified a need for stronger connection between health care systems and providers and the community organizations that address social needs. Several states are in the process of building online networks that will connect these entities and, better still, allow them to follow up with patients to ensure they receive the recommended care.
Establishing clear metrics for program success
Creating and implementing an equity-driven Medicaid funding program begins by defining goals at the intersection of health system priorities and the state Medicaid programs' priorities. This helps establish an appropriate framework for a funding program that works within CMS' broader goals.
Tightly focused goals help program teams develop useful value-based care quality metrics for tracking progress. CMS has encouraged programs to utilize its established core metrics, as this allows for comparison across similar programs. These metrics assess how the program is furthering the state's goals and objectives. A value-based care financial and quality assessment and data analysis can help health care providers determine where they are currently performing on their measurement scale and identify opportunities for actionable improvements.
Mapping root causes is a critical first step in identifying options and developing alternative approaches to care. From there, organizations can begin to build achievable goals and the most impactful strategy for applying supplemental funding.
Improving Health Care Outcomes for All 
Equity-driven Medicaid funding programs are transformative in how they create a flow of funds that will benefit those in need. These programs are not only about filling a budget gap; they are purpose-built funding solutions that support states and providers in addressing the sources of population health problems that are specific to communities in a given state. While these programs may vary in size and scope, they tie funding to targeted needs within CMS' broader value-based program frameworks.
These supplemental Medicaid financing solutions have the power to positively impact communities because they relieve some of the immediate financial pressure of working toward new ways of providing care. With reliable funding over time, health care entities can innovate how they address inequities in health care. A health system can take the risk, for example, of hiring community health workers to drive improvements in Medicaid-covered prenatal care when that health system knows it will be able to pay staff's salaries for the duration of the program's approval period, typically one to five years.
Maryland Quality Innovation Program: Improving Outcomes for Thousands of Baltimore Patients
This was the case in West Baltimore, where Medicaid reimbursement levels had proven insufficient to address population health issues. The University of Maryland's Faculty Physicians, Inc. (FPI) saw ample evidence that limited access to appropriate levels of care was resulting in poor treatment outcomes for individuals with addiction and diabetes, among a host of other health conditions. Increased rates of emergency department utilization and avoidable admissions were only driving up the cost of care, while inadequate access to specialty care was significantly extending appointment wait-times and causing delays in treatment.
With guidance and support from Sellers Dorsey, FPI secured several million dollars in supplemental funding for two years to develop the infrastructure and clinical approaches necessary to address the West Baltimore Medicaid population's unique issues. This funding will support the delivery of medical and psychosocial services in addiction treatment centers, the development of a diabetes consultative service that will address chronic disease management, and expanded access to specialty care.
Thanks to the technical, policy, and political expertise provided by Sellers Dorsey, FPI proved eligible to receive 100% of at-risk funds through Medicaid managed care plans in the value-based risk incentive model. This equity-driven boost in annual Medicaid funding will allow the practice to transform into a fully integrated "medical neighborhood," delivering high-quality health care for its communities.