On March 14, 2017, Department of Health and Human Services (HHS) Secretary Tom Price issued a joint letter to the country's governors with Seema Verma, Administrator of the Centers for Medicare and Medicaid Services (CMS) (view the letter here). In the letter, they indicated their desire to focus on the core mission of Medicaid – "to serve the truly vulnerable" – by creating flexibility for states to evolve their Medicaid programs. Price and Verma outlined five focus areas for achieving objectives around managing spending, fostering state-led program reforms, and improving health outcomes for specific populations (summary included in the figure below).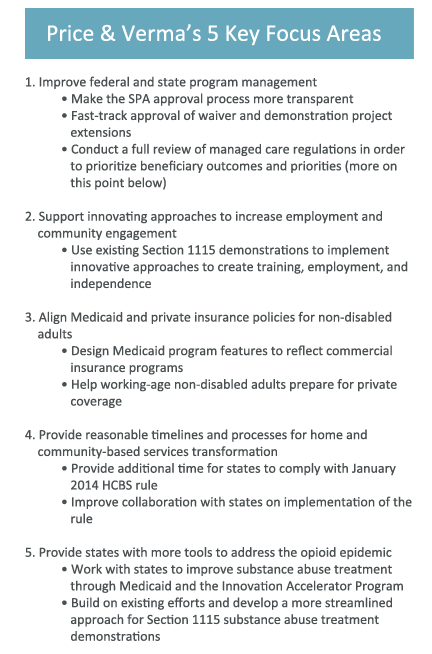 Price and Verma also noted that they "plan to conduct a full review of managed care regulations in order to prioritize beneficiary outcomes and state priorities." This presumably includes the "Mega Rule" on Medicaid managed care rate setting, finalized in May 2016. One of the most commented upon areas of the Mega Rule was provisions impacting pass-through payments.
Last year Sellers Dorsey shared its analysis of the rule and its effect on supplemental payments made through Medicaid managed care. Because these regulations must go through a formal rule-making process before undergoing any official alterations, the final managed care rule stands. Therefore at this time, we are proceeding in accordance with the rule.
Sellers Dorsey recognizes the potential CMS has to create flexibility for state Medicaid programs in a number of ways. We are monitoring and researching legislative, policy, and political changes happening on a state and federal level so that we can help clients, including states, achieve their goals and reflect the mission and vision of CMS. We are applying the best thinking and analysis to guide our clients on how to approach potential changes, leverage opportunities, and mitigate any risks. As a firm that specializes in Medicaid finance including the use of capitated managed care, we have closely analyzed the requirements and potential impacts of the Medicaid managed care rule so that our clients can honor regulations while maximizing opportunities to advance their priorities around service delivery and payment reform. We will continue to analyze information from CMS as it is made available and work with clients to comply with updates to regulations when they occur.