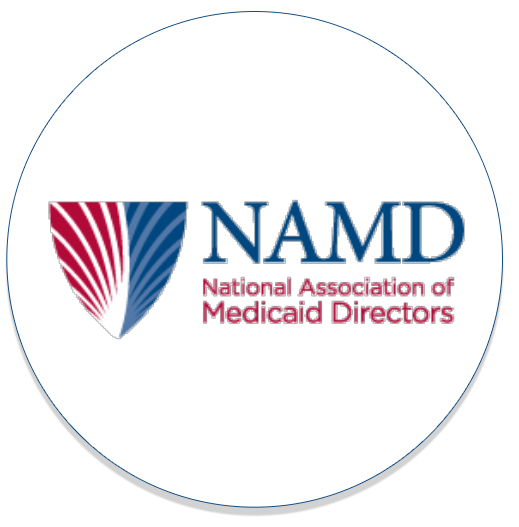 Sellers Dorsey Proudly Supports
the National Association of
Medicaid Directors
We can't wait to see you at The
NAMD Conference November 14-16!
Constant change. Evolving priorities. Urgent health care issues.
With help from our Medicaid leaders, the way you handle challenges can be a strategic advantage.
Our experts are former Medicaid and human services officials from across the country, so we know what it takes for Medicaid agencies and their partners to advance their health care missions and business objectives together. Our Medicaid experts work with clients across the landscape of Medicaid to improve health outcomes, create efficiency, and build sustainable heath care programs.
Together we can move Medicaid and managed care forward to meet the challenges of today and opportunities ahead.

Your Challenge
Innovate, address social issues, enhance efficiencies, sustain funding flows
Medicaid Directors are expected to implement innovative approaches, achieve program efficiencies, and improve overall health care outcomes. The COVID-19 public health emergency added speed to the demand for expanded access and ways to address complex health-related social needs.

Your Opportunities
Know what's coming so you can react
With the right support, you can move in lock step with partners to drive system enhancements and unlock Medicaid financing opportunities, help avoid pitfalls, identify trends, and leverage the latest effective practices.

Your Ally
Sellers Dorsey
Our people are not just subject matter experts with great connections and years of experience running Medicaid programs and health plans. They're also doers who share your mission and roll up their sleeves to make sure your initiatives achieve impact.
Services for Leaders across the Medicaid Landscape
Sellers Dorsey experts have experience as successful leaders of state Medicaid programs, MCOs, and providers, so we can help states implement proven concepts and develop effective new approaches through these and other services:
Medicaid supplemental financing initiatives
Value-based care strategy development and health system transformation
Developing and negotiating 1115 Medicaid waivers
Managed care program planning and procurement
Business development and sales support
Market intelligence and analysis
» CLICK HERE to learn more about the range of financing, policy, and operational issues we tackle with our clients.
Medicaid Experts Who've Been in Your Shoes
Sellers Dorsey includes former Medicaid Directors, health plan executives, clinicians, and former state officials responsible for the development, financing, administration and operation of managed care and long-term services and supports programs for states and health plans. Key members of our team include:
---
If you would like additional information or wish to speak to any of our experts about issues facing your organization organization, please get in touch and we will have a conversation at a time that's best for you.